Summer is here in full force! Over in our community groups, a common question among the moms is about sunscreen recommendations. As mamas, we are almost always the one to research, buy, and apply the sunscreen. I can still remember my mom lining us all three up before going down to the beach. It seemed like torture at the time; it was the only thing standing between me and those beautiful ocean waves. Now, as a mom, I know the pressure she felt to keep us safe from sunburn and skin damage. In fact, she still feels responsible I think, as just yesterday she offered me more sunscreen because she noticed my shoulders looked pink while out at the pool.
Picking a sunscreen seems harder than it should be. There are so many options and opinions. I have rounded up recommendations from our community group posts- these are mom approved products and not sponsored or promoted. As always, if you have questions or concerns, consult your pediatrician before use.
Before we get to the products, a quick note: we are all learning more about the difference between chemical sunscreens and mineral sunscreens. Like many things, the internet has a lot of information and opinions on the matter, so I encourage you to do your own research about whether a chemical or mineral sunscreen is best for you. The basic run down from this NPR post is that dermatologists now know that chemical sunscreen ingredients get into your bloodstream, with scientific studies finding four specific ingredients in blood, urine, and breastmilk. What we call chemical sunscreens include 16 common ingredients, with the FDA only deeming two of those "safe." The FDA study identified the systemically absorbed ingredients as avobenzone, oxybenzone, octocrylene, and ecamsule. The FDA did not determine the health effects of these four ingredients, only that they were absorbed, so now research must be done on the safety of the ingredients. Because of this, many moms choose to avoid chemical sunscreens in favor of mineral sunscreens. Conversely, many moms find that mineral sunscreens are not as effective at protecting from sun damage and potential skin cancer as chemical sunscreens and choose a traditional sunscreen route.
The Round-up:
Supergoop! : This mineral based sunscreen is on the expensive side but is consistently recommended by moms. There is a baby/kid line, a Play line, and a line that a lot of moms like for themselves. Some of the lines are reef safe.
2. Blue Lizard : An Australian brand, this sunscreen line is reef safe and mineral based.
3. Sun Bum: This sunscreen is "reef friendly", but not officially reef safe if that matters to you. It is free of two of the concerning ingredients, oxybenzone and octinoxate.
4. Coppertone/Waterbabies: This is a brand that moms have trusted for years. Coppertone has responded to the uptick in concern for ingredients by having different lines of products. The Sport pictured below, for example, is free of oxybenzone and octinoxate in SPF 15-50. Waterbabies has an original formula (which is thick and never has failed my mom; it is her sunscreen north star), as well as a "pure and simple" line that is mineral based.
5. Beautycounter/Rodan & Fields: I am admittedly not an MLM person; this is mostly because I don't like paying shipping and prefer to buy in person or through Amazon, but also sort of because of some past "hey girl" message experiences. But I use Rodan & Fields sunscreen, because it is one of the only things that doesn't break out my sensitive skin but still works. Similarly, I have many friends (and moms who commented on our community group) who swear by Beautycounter's sunscreen. It's great that it works and you get to support a friend or mom who is running their side hustle.
6. Trader Joe's: We are relatively new to the Trader Joe world here in Memphis, and the moms are spreading the good news about TJ sunscreen. It is a mineral sunscreen at a good price point, and easy to get if you shop at Trader Joe's.
7. Equate Walmart brand: When budget is a concern, the Equate brand from Walmart outperformed most store brands and is a mom favorite. It is oxybenzone free but not considered a mineral sunscreen, as it does have other chemicals. You can't beat the price and protection.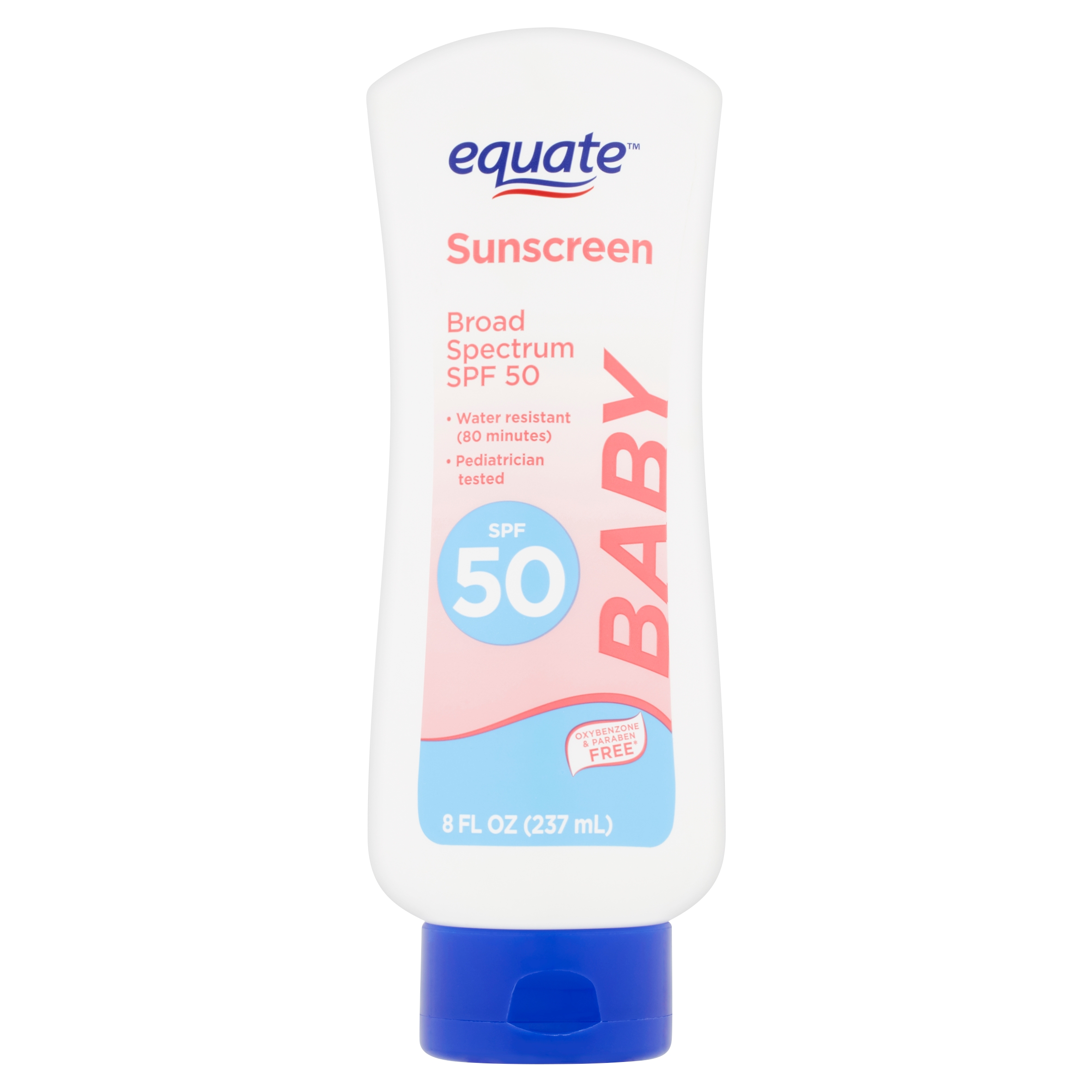 8. Cerave: This brand is actually recommended by my dermatologist, and a lot of moms who have kids with eczema or sensitive skin love it because it is hypoallergenic and fragrance free. It is mineral based and includes aloe.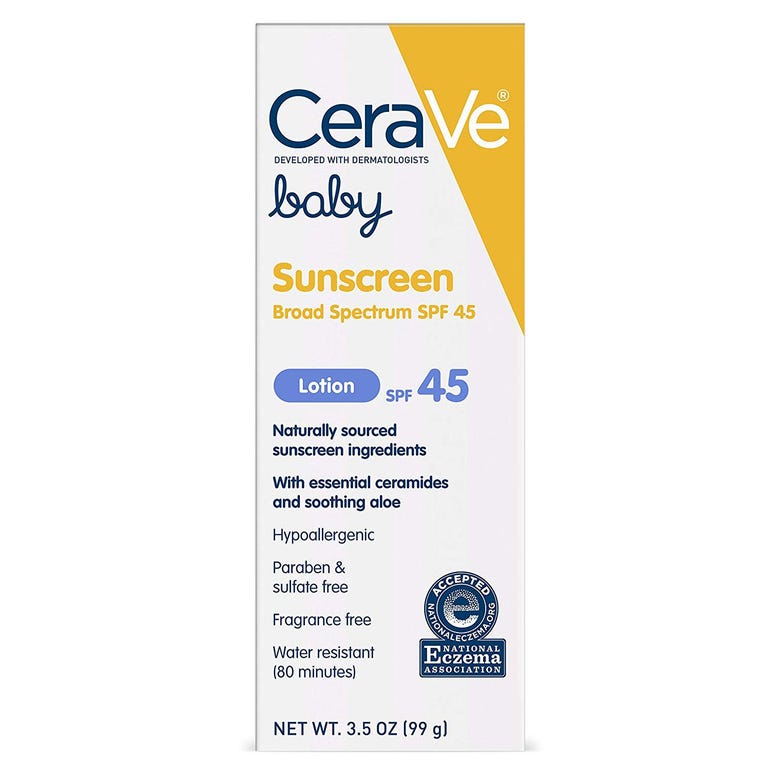 The bottom line and a tip: No matter whether it is chemical or mineral based sunscreen, protection from the sun is most important so the best sunscreen is the one you can buy and use with their approval and cooperation. Dermatologists warn that sunscreen sprays are not as effective because they are usually not applied thick enough or evenly, and the suncreen aerosols can get in kids lungs – but I will say that I use it for reapplication after a good base layer when my hands are sandy down at the beach and applying lotion would be problematic. And when your kid has to apply sunscreen on themselves at camp, spray is just easier.
And now, the tip – makeup sponges. Use a beauty blender sponge to apply sunscreen to your kids face. It feels better than your hands and you can be more precise. I dab circles of the sunscreen all over their face and then use the sponge to rub the sunscreen in. My daughter says it feels like getting her face painted, which is one of her favorite things – winning!